Leadership Professional in Ethics and Compliance (LPEC)
You are about to take the next step in positioning yourself as a dedicated E&C professional.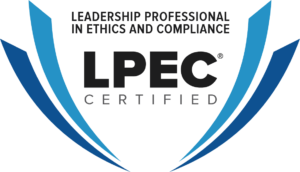 LPEC certified ethics & compliance practitioners have positioned themselves as experts in the field. LPEC certification shows that you have the requisite, working knowledge to build and sustain thriving E&C programs to the highest possible standard.
LPEC Certification is:
Awarded to those who successfully pass the 100-question LPEC exam.
Based on deep-knowledge of our High-Quality Program principles.
Available to members and non-members.
Continue on your path of excellence. Contact us today by filling out the form on the right, or e-mailing us at certification@ethics.org
LPEC Certification is governed by the board of the Ethics & Compliance Certification Institute (ECCI), the certification arm of ECI.
Contact Us Today and Become LPEC Certified
Session 1 – Introduction (90 minutes)
Logistics
Organization of the content
Introduction to ECI's five principles of High Quality E&C Programs (HQP)

Understanding HQP's link to the FSG and OCED and ISO standards
Applying the five HQP Principles1. E&C is central to business strategy – ability to make a business case utilizing the supporting objectives.2. E&C risks are identified, owned, managed and mitigated – understanding the tools and activities necessary to compete for executive and board attention3. Leaders at all levels across the organization build and sustain a culture of integrity – understanding, engaging and presenting the power of culture utilizing the C-suite, executives and managers.4. The organization encourages, protects and values the reporting of concerns and suspected wrongdoing – alignment of tone and policy; training and leveraging middle managers, developing consideration for all stakeholders (including third-parties) of the organization.5. The organization takes action and holds itself accountable when wrongdoing occurs – how to report, define, investigate, resolve and contain misconduct.

Discuss the Fundamental elements of an ethics and compliance program

How do I lead and interact and with these elements?
How do I evaluate the efficacy of my elements?

Benchmarking
KPI
Analysis

Communicating E&C's value and promoting operational performance
HR, Legal, Privacy, Audit, Sales & Marketing, Procurement, Corporate Responsibility, Government Affairs, Finance & Accounting, Information Security / IT, Investor Relations, Line Management, Senior Management, Board of Directors
Impact of Effective E&C Programs (ECI Research)
Value of Effective CECO to Business
Scope of an effective CECO's role & areas outside of E&C that are important to know about
Challenge of Building & Sustaining an HQP
Effective Leadership

Qualities of good leaders
Defining the role of the CECO (ECI Research findings)
Session 2 – Strategic E&C (60 minutes)
Overview of HQP Principle 1:E&C as central to business strategy
The Role of the Chief Ethics & Compliance Officer
Defining the organization's compliance vision and strategy
Assessing a Code of Conduct

Developing consistency with the letter and spirit of law, organization's core values, and universal ethical principles
Relevance to employees' jobs
Clarity about what employees should do in specific situations
Readability and cultural-appropriateness
Relationship between Ethics & Compliance and function that manages policies

Which policies are "owned" by E&C?
Which policies apply only to employees and which apply to everyone (e.g., contractors, agents)?
Readability and cultural-appropriateness

Assisting senior management in its oversight of the organization's compliance program
Monitoring and evaluating the proper functioning and effectiveness of the compliance program
Understanding business strategy

Positioning E&C inside the mind of the C-Suite
Connecting E&C to the business
Strategic Planning
Key business documents & C-suite activities every CECO should pay attention to

Establishing and Maintaining Critical CECO Internal Relationships

The CECO's relationships to peer functions within the organization
The CECO's relationships with the business units & divisions
The CECO's relationship with business staff: sales, development, R&D, etc.
The CECO's relationship with the governing bodies (C-Suite, board)
Session 3 – Identifying & Mitigating Risk
Overview of HQP Principle 2: E&C risks are identified, owned, managed and mitigated
Components and tactical understanding of the ERM process

Understanding the basic elements of ERM programs
Assessing risk and developing a repeatable process to establish risk levels
Identifying, analyzing and prioritizing risks
Defining the necessary countermeasures to mitigate risk
Understanding the cost/benefit analysis of countermeasures
Devising a governance structure for oversight – with responsibility for escalation
Review of information systems to support decisions, monitoring and communication
Understanding how an organization's culture affects its risk profile

Understanding the factors that affect risk

Industry dynamics
Business structure
Size of the business in $$
Size of the business in EE
Products and services
Geographies served/Location of the operations
Size of the third-party or external stakeholder network
Controls already in place and mitigation history
Mission, vision, and values (espoused and lived)

Risk taxonomy of Key Indicators

KRIs (Key Risk Indicators)
KPIs (Key Performance Indicators)
KCI (Key Control Indicators)
BEICFs (Business Environment (BE) and Internal Control Factors (ICF))

Aligning to business activities and conditions, how to:

Determining whether any additional E&C communications (training or other) should be targeted systemically or by operating group on any given topic
Developing/enhancing E&C audit protocols, monitoring tools and other approaches to "checking" on both an enterprise-wide, local "level" and with "third-parties"
Identifying E&C risks and if additional controls are warranted
Establishing additional E&C oversight/reporting responsibilities for high-risk areas
Assessing whether incentives in any part of the Company pose an undue risk from a E&C perspective
Importance of metrics for measuring the effectiveness of E&C efforts
Identifying cultural or geographic E&C risks
Reporting program review and oversight to the Board

Understanding and utilization of the tools and methodologies for understanding ERM results

Radar Map
Heat Map
Risk Ranking
Venn Diagram
Session 4 – Leadership & Culture
Overview of HQP Principle 3:Leaders at all levels across the organization build and sustain a culture of integrity
Understanding Culture

Impact on employee behavior
Why the view is rosier at the top (ECI research)
Drivers of culture (ECI research)
Enforcement attitudes about the role of culture

Getting buy-in on the importance of culture

Ethical leadership in setting tone (ECI's research)
Connecting and evangelizing E&C to business leaders
Performance metrics for leaders (ECI ERAs)

Strong cultures have two primary drivers:how do you develop them
Exploring what and how organizations find themselves in serious ethics and compliance trouble
Creating and Measuring Culture:

Communications
Tone at the Top
"Mood in the Middle"
Recruiting
Socialization and Training
Global Considerations
Third Parties (Vendor, Supplier, Agent)
Maintaining an Evolving Culture
Appraisal, Discipline and Reward Systems

Utilizing measurement tools and math
Session 5 – Encouraging Reporting
Overview of HQP Principle 4:The organization encourages, protects and values the reporting of concerns and suspected wrongdoing
Understanding Retaliation

Top 10 Forms of Retaliation (Perceived by Reporters of Misconduct)
NBES Research on Retaliation

7 Keys to Open and Non-Retaliatory Environments

Developing clear and effective code standards
Fostering a culture that values communication and admitting mistakes
Creating and advertising multiple communication channel

Understanding how and where incidents are reported
EE Reporting, Direct manager or another member of management, Ethics and Compliance Office (or Ombudsman), Local/Regional designates, Functional department (e.g., Finance, HR, Legal), Audit, Helpline/Hotline, Board Audit or Compliance Committee, Real time/near time Observation, Technology
Developing a consistent, repeatable review, triage and follow-up process for all reports and inquiries
Despite the SOX emphasis, most reports or allegations of misconduct go to managers

Training managers to understand the how and why of report intake

Best Practice Incident Helpline Reporting Flow Chart

Training managers to understand reporting triage steps
Training employees and other stakeholders how, what and where to communicate their feedback and concerns

Reasons for considering an outsourced helpline/hotline

Tracking Internal Reporting and Helpline/Hotline Metrics
Using internal reporting data to evaluate many areas of E&C programs and culture
Defining Reporting KPI and Metrics

Implementing a problem focused investigation process
Session 6 – Accountability & Continuous Improvement
Overview of Principle 5: The organization takes action and holds itself accountable when wrongdoing occurs
Interpreting the importance of accountability

Views about accountability by level (ECI research)
Procedural justice
Communicating disciplinary actions

Internal Investigations — How E&C Leaders control, execute and manage investigations of misconduct

How/when to bring in 3rd parties

Applying root cause analysis to understand what led to misconduct and prevent recurrence
Protecting whistleblowers and others participating in the investigation of misconduct from retaliation
Developing continuous program improvement

Reasons to evaluate program elements
Measuring the effectiveness of program activities
Providing evidence that the program is working and improving

Benchmarking – internal, nationwide surveys, industry data
Using Employee Surveys
Assessing compliance with policies and the law
Adjusting to changing economic and regulatory environment
Identifying training needs

E&C Standards used to Evaluate Programs

Steps for Effective Measurement (ECI Research)
Growing recognition of culture as a measure of program effectiveness
Using ROI as a measure for E&C function